UCCO-SACC-CSN has finally been presented with the Memorandum of Understanding regarding the catchup clause for the Phoenix damages settlement signed June 2019 and has signed this MOU effective March 5.
As you may recall in June 2019, UCCO-SACC-CSN along with many other federal public service unions, signed an MOU with the Treasury Board which detailed a compensation plan in the form of annual leave, meant to capture general damages in relation to the problems our members faced as a result of the Phoenix pay system. These were entitlements for all members. The annual leave was granted as 8-hour days and broken down into fiscal year as follows;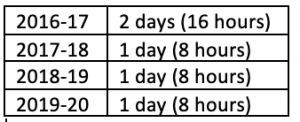 A claims process was also put in place, for any member who experienced significant issues resulting from the Phoenix pay system that resulted in damages totaling more than $1500.00.
Catch-Up Clause
Recognizing that the PSAC did not sign onto this agreement, a catch-up clause was implemented in the MOA to state that if another form of compensation was negotiated that gave further benefit to the negotiated terms of leave in the signed June 2019 agreement the National Joint Committee subcommittee on damages would be able to renegotiate the terms of the June 2019 MOU.
That being said, the PSAC has settled with the employer to pay members affected in their bargaining group a settlement of $1500.00 (a non-pensionable payment and considered taxable income) broken down as follow;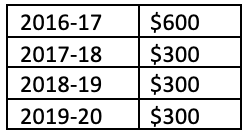 As part of the catch-up clause, the monetary amounts (1500$) settled with the PSAC for general Phoenix damages, represented essentially $300 dollars for each day. For those that may have been lower on the pay scale in which 8 hours of work did not represent $300, a monetary payment will be made to bring the member in line with the $300 as long as it represents a payment of 10 dollars or more. For example, a CX1 in 2016 at the base salary ($61204.00) would have received approximately two hundred and thirty-five dollars as a daily rate of pay; 300-235 = $65.00 as this represents a figure over $10.00 and in 2016 the compensation was granted at 2 days the member would receive 2 X $65 equaling 130.00 taxable payments.
Late implementation of payment
The FPSLREB also answered a policy grievance which was filed by all unions including UCCO-SACC- CSN for late implementation of payment from the 2014 Collective Agreements and awarded the PSAC $1000.00 for each employed member to recognize this failure by the employer to abide by the terms of the Collective Agreement. With this decision, our policy grievance is essentially answered and this MOU, represents this settlement. What does this mean for the members of UCCO-SACC- CSN? First and foremost, this MOU is meant to answer our policy grievance on the late implementation of the 2014 Collective agreement. Payment as a result of this will be as follows;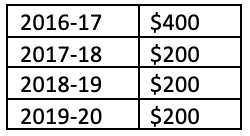 Any member that was employed during this time including those on long-term leave will be entitled to these amounts that total $1000.00.
Finally, the MOA signed in June 2019, gave the members of UCCO-SACC-CSN the best of both worlds. Though the compensation was detailed to reflect annual leave, subject to carry-over provisions, our members were able to either use leave (pensionable time off) or cash out the leave.